Mango Crumble Slice
A great way to use up overripe mangoes, or other fruit like peaches, nectarines, apricots or berries. If fresh fruit is unavailable use frozen or canned fruit.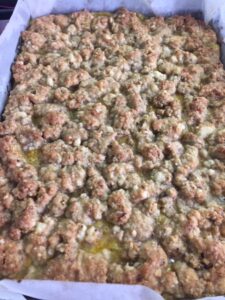 Prep: 20 mins          Cook time: 35 mins            Serves: 6
Ingredients
3 cups ripe mangoes (small chunks) (about 3 mangoes)

4 tablespoons granulated sugar

3/4 tablespoon cornflour

2 cups plain flour

1 teaspoon cinnamon (optional)

1/2 teaspoon baking powder

1/4 teaspoon salt

3/4 cup cold unsalted butter

2/3 cup brown sugar

1 large egg

1/2 tsp vanilla extract

1-2 tablespoons raw sugar
Instructions
Pre-heat oven to 180oC or 165oC fan forced.

Line a 20cm x 20cm baking pan with baking paper

In a bowl, mix mango chunks, sugar (use more if mango is not ripened) and cornflour.

Put flour, baking powder, salt and cinnamon (optional) in a food processor and pulse to combine.

Cut cold (important: make sure it is cold) unsalted butter into chunks. Add to food processor and pulse until the texture of small crumbs.

In another medium bowl combine brown sugar, egg and vanilla extract. Then add egg mixture to the food processor and pulse until slightly crumbly.

Press about 2/3 of the mixture into the pan to form a layer of crumb pastry.

Spread the mango mixture evenly over the crumb base.

Sprinkle the mango with the rest of the crumb mixture so some mango shows through.

Sprinkle with raw sugar and bake in the oven for 35-40 minutes.

Remove from oven and let it cool for 5-10 minutes. Then lift baking paper and bring pastry out from the pan. Let it cool for another 15-20 minutes.

Cut into 9 square bars to serve.
Note: Recipe adapted from https://www.joyousapron.com